Wedding Planning Services
You can be sure that you will be taken good care of at the Family Farm Event Loft. Over the past  5 years we have been pleased to host many special wedding events. As part of our services you will benefit from our experience in planning your special day. Upon retaining the Family Farm loft for your event, we offer a free one and a half hour planning / coordination session to introduce you to our many helpful services that will make your wedding special.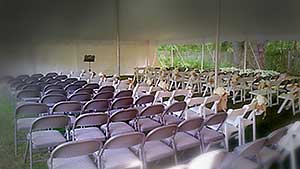 We become very aware of all of your vendors activities and are proactive as we help coordinate them for your event.  Including Tent purchase and set up as well as floor planning, bar suggestions and of course, timing throughout.  The owner / floor manager is the coordinator for all activities as they embrace the Family Farm's schedule.  In addition, remember that the rented inclusion of the B&B (especially when it is the entire top floor for $500.00) allows your reception experience to be enhanced as well as relaxed.