Features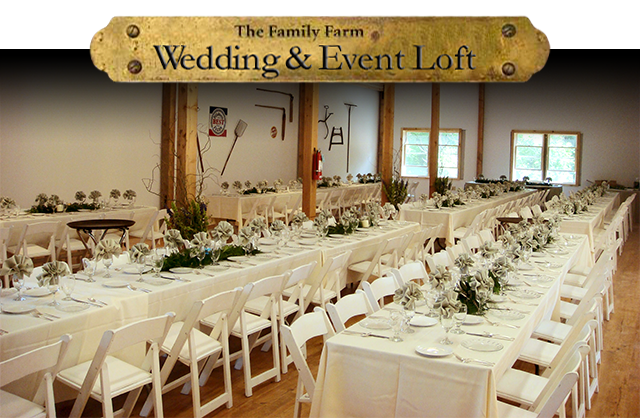 The Family Farm Event Loft is a spacious unique event space featuring cathedral ceilings and beautiful yellow pine floors that will create the perfect setting for your special wedding.
The Loft features:
* Capacity up to 220 people
* Tables, chairs, and picnic tables are available
* Handicapped accessibility
* Free 120 space parking area
* Bed and breakfast on the grounds
* Catering available
* Bar/Liquor License
* Unique farm antiques add to the charm
* Beautiful grounds and gardens
* Modern facilities
* air conditioned and heated for summer and winter receptions
In addition, the owner is also the floor manager for your reception and the event coordinator once you've reserved a weekend here. He coordinates all of the vendors as regards their activities on this property for your celebration. Often, the manager will also work closely with the DJ to offer suggestions for timing for the Bride and groom (ex: grand march or dinner toasts, etc)
The Local Amenities
Churches:
Several churches providing wedding services for non-congregate members.
Parks:
Ozaukee county, Grafton and Cedarburg have over two dozen parks near by including the iconic Covered Bridge Park (15 minutes away).